Utilities -> Print Manager
The print Manager is used to control print jobs. Print Jobs you say? Any time a report or POS receipt is printed it is first saved to your computer and waits for a program which manages the printer. It reads the report and sends the information to the printer. In the event that many reports or jobs are being sent to one printer, it is the job of this program or spooler to send them in sequence to the printer. Each printer has a spooler managing its jobs.

The print manager allows you to stop jobs from being printed or delete them. It can also be used to start and stop the printers print spooler program.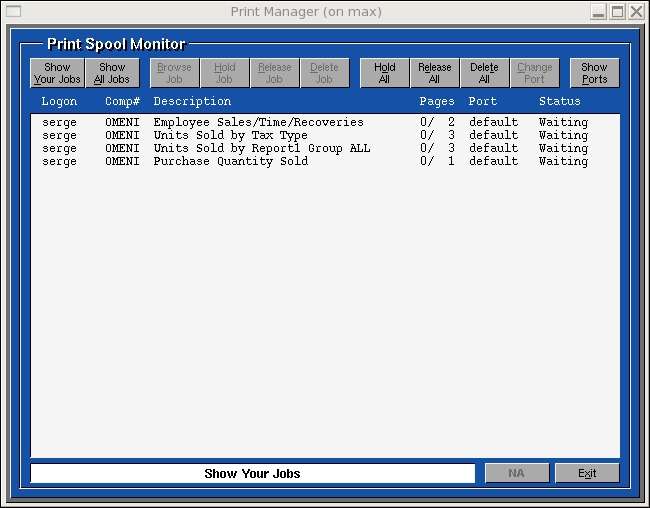 Show Your Jobs: Used to display print jobs that were created by you.
Show All Jobs: Used to display all print jobs. You may view other peoples jobs but cannot manipulate them.
Press either of these buttons to update the list of jobs.
Browse Job: View the contents of the currently select print job. This is the same as viewing the report.
Hold Job: Place the currently selected job on hold. It will not be printed until it is released. You can use the option to alter the sequence in which jobs are printed.
Release Job: Releases a previously held job for printing.
Delete Job: Remove a job from the list.
Hold/Releas/Delete All: Same as above but operates on all of the jobs in the list.
Change Port: Ports allows you to change the printer that will be used to print a job. First place the job on hold and press the "Change Port" button. Select from a list of ports to record your change. Release the job and it will be printed to the new destination.
Ports: Displays the ports control screen.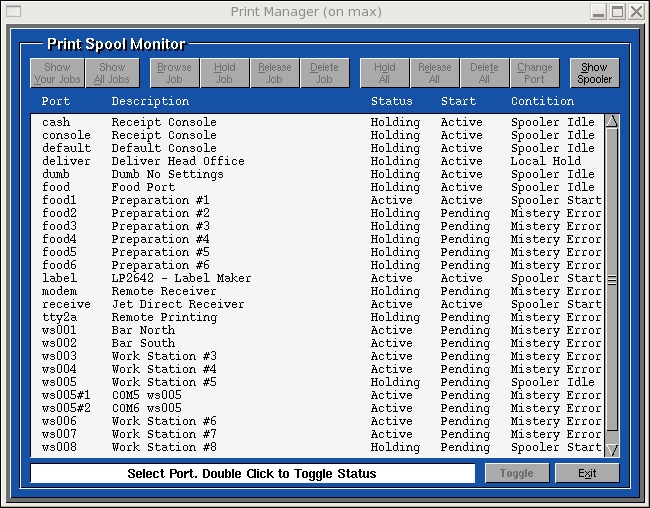 Jobs: Return to the Jobs screen.
If a port spooler program is active the Status line will read "Active" if not it will read "Holding". To switch the current state of the port spooler double click on the port line you wish to change,
Exit: Leave the Print Manager.