This sections is used to define destination printers and connections. Ports are used to group a printer type with a form and describe the physical connection to the system.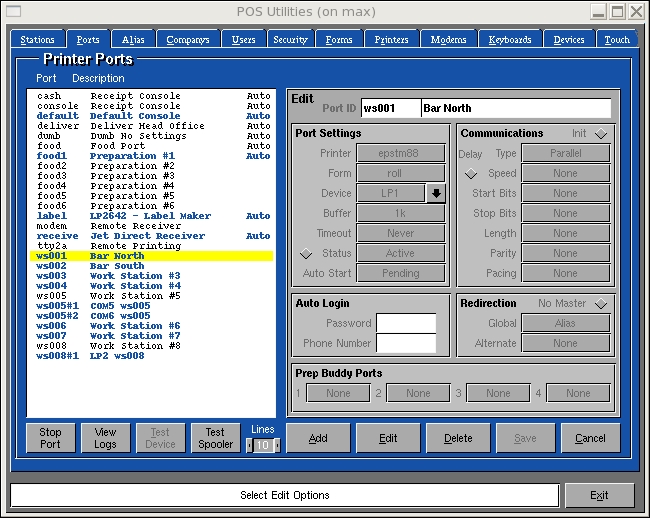 Add: Used to add a new Port. Press the "Add" button and enter a n 8 character description of the port in the port ID field. Enter or Select options from the following fields;
Port Settings
Printer: Select from a list of pre defined printer types.
Form: Select from a list of pre defined paper forms.
Device: Select from a list of com ports.
Buffer: The size in 1k bytes of the print buffer to be used for printing jobs to the printer.
Time out: The amount of time the spooler will sleep before looking for more print jobs.
Status: The following status are available;

Active: The port is available for use,
Hold: Jobs will be held in the spool monitor until the port becomes active,
Local: No print spooler will be used. Jobs will be sent directly to the Port device.

Auto Start: Determines when the print spooler will start.

Active: Will start when the server is started,
Pending: Will start when manually activated:
Remote: The port describes a remote connection to another server.
Auto Login
Login Name: If this port is a remote port then this is the login name of the server.
Password: This is the remote servers password.
Phone Number: This is the phone number to be dialed to connect to the remote server.
Communications
Type: This is the type of connection used to communicate with the printer.

Parallel: A parallel connection.
Serial: A serial connection.

Speed, etc.: The usual com port settings are available for serial connections.
Save: Used to record your changes from an "Add" or Edit" mode.

Edit: Used to change a Port Select a Portfrom the list and press "Edit". Change the information as required and press Save to record your changes.

Delete: Used to remove a Port from the list. Select a Port from the list and press "Delete". You will be prompted to confirm your choice.

Cancel: Used to deselect a Port from the list or to exit an "Add" or "Edit" mode without recording any changes.

Start/Stop Port: Used to automatically start or stop a spooler program from running at a port.

Start/Stop Test: Used to send sample datat to the port.