This sections is used to define the modems that are connected to your system. These modems are typically used to communicate with other systems for the purpose of data retrieval.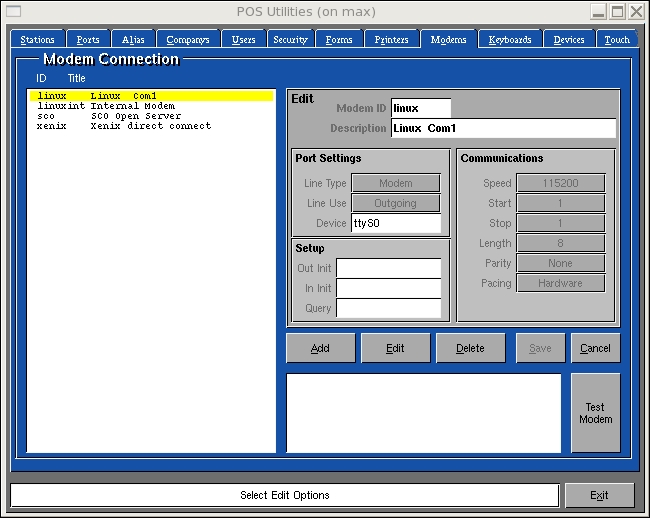 Add: Used to add a new Modem. Press the "Add" button and enter a 8 character name in the ID
field. Enter or Select options from the following fields;
Description: Used to describe the Modem
Port Settings
Line Type: A connection can either be through a modem or a direct serial cable.
Line Use: Used to indicate the direction of data flow for the connection.
Device: The device name the the modem is connected to.
Setup
Out Init: Initialization string to sent to the modem prior to to dialing an outbound connection.
In Init: Used to reset the modem to accepts incoming connections.
Communications
Speed, etc.: The usual com port settings are available for serial connections.
Save: Used to record your changes from an "Add" or Edit" mode.

Edit: Used to change Modem information. Select a Modem from the list and press "Edit". Change the information as required and press Save to record your changes.

Delete: Used to remove a Modem from the list. Select a Modem from the list and press "Delete". You will be prompted to confirm your choice.

Cancel: Used to deselect a Modem from the list or to exit "Add" or "Edit" mode without recording any changes.