The "Program Manager" provides access to all of the other programs included with DineAmix software packages. You can start the program manager in the following manner. Logon as one of the logon accounts below.
posadmin -

Used to access the Program Manager so you can configure and maintain the POS.

The "posadmin" logon has the program manager loaded automatically.

postech -

Used by technical users to maintain the system environment. After loging on, the

"postech" logon is presented with a Desktop. The program manager can be started in one of 2 ways. By activating the "Dine-Amix" icon on the desktop or by starting a Unix shell and typing "xomen".
In each case the following screen is presented.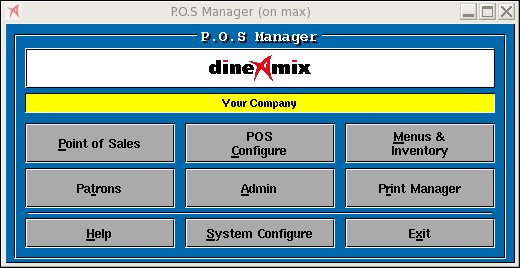 Each button provides access to a group of related programs. The groups are as follows;

Point of Sale
POS Combo
POS Fine Dine
POS Dine/Takeout
POS Delivery
POS Delivery/Takeout
POS Takeout
POS Cashier
POS Retail


POS Configure
General Setup
Locations Setup
Table Layout
Adveritzing
Menus & Inventory
SKU Purchases
PLU Sales
Placement
Recipe


Patrons
Dine Patrons
Retail Patrons
Delivery Patrons
Delivery Look-up Patrons


Admin
Sales Monitor
Guest Booking
Employee Schedules
Inventory Receiving
Optimize Data
Contact Manager
Canadian Payroll
POS Mail


System Configure
All Hardware Setup


Help
This on line Manual
Print Manager
Manage Print Jobs
Manage Print Ports


Exit
Leave Program Manager


The next sections describe each group and related programs in detail.

Note: Pressing the DineAmix logo will alternate the program managers appearance from horizontal as show above to vertical as show below.