Configuration -> General Setup -> Printing
Printing options have been grouped into 5 sections. Each option controls the look, feel and operation of receipt and preparation printing.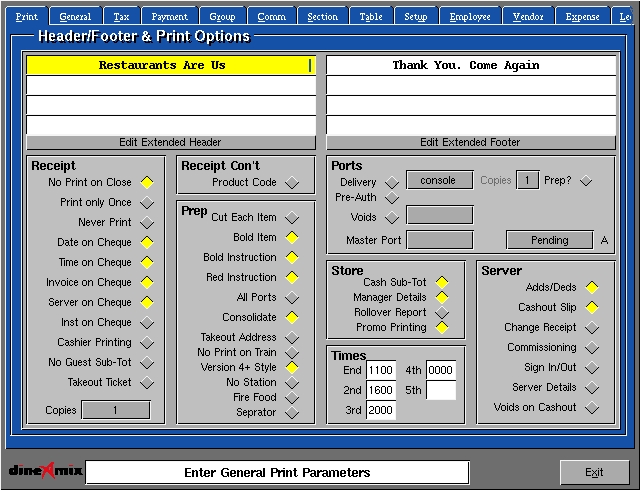 Header & Footer:
Header: Enter up to four lines of Header information. This information will be printed at the top of each receipt and system reports.
Footer: Enter up to four lines of Footer information. This information will be printed at the Bottom of each receipt.
You can add special characters in the header and footer areas to turn on and off certain printing highlights. You can also include special characters to add information to the header and footers.

Highlights
%B Start bold printing.
%b Stop highlight.
%U Start underline printing.
%u Stop highlight.
%E Start Elongated Large printing.
%e Stop highlight.
%R Start red printing.
%r Stop highlight.

Information
%d Replace with current date.
%t Replace with current time.
%s Replace with server name.

Receipt:
No Print on Close: Do not print the receipt when a bill is being closed if a guest check was previously printed.
Print Only Once: Allow a receipt or guest check to be printed only once. Once printing is complete, the order can no longer be modified.
Date on Check: Print the current date on the guest check.
Time on Check: Print the current time on the guest check.
Invoice on Check: Print the sequential invoice number on the guest check.
Server on Check: Print the server name on the guest check.
Inst. on Check: Print preparation instructions on the guest check when they affect the price of an item.
Cashier Printing: Print guest checks at cashier station when they are placed from the cashier station.
No Guest Sub Tot: Do not print separate guest sub totals on check.
Takeout Ticket: Print a serialized takeout ticket for patrons to use to reclaim their orders.
Never Print: Never automatically print a guest check. Guest checks can still be printed by using the Guest check button.
Preparation:
Cut Each Item: This option is obsolete. It is present for backwards compatibility only.
Bold Item: Print preparation items in bold.
Bold Instruction: Bold print preparation instructions.
Red Instructions: Red print preparation instructions.
All Ports: Print all preparation items to all preparation printers, Highlight the items intended for the recipients printer.
Consolidate: Print a list of like items at the bottom of the preparation ticket. This list will show each preparation item and the quantity of that item required.
Takeout Address: DO NOT print the patrons address on takeout order receipts.
No Print On Train: Do not print preparation tickets when a station or employee is in training.
Version 4+ Style: Use version 4+ preparation printing method. This is explained in the "Sale Items->Modifiers" documentation.

Ports:
Delivery: Select the print port used for Delivery receipt printing.
Copies: Select the number of Delivery receipt copies to be printed.
Voids: Select the port to be used to print a voids warning ticket. When this option is seected a ticket indicating the server name, order number and item being voided.
Master Port: Select a port that all orders will be printed to. This option is used when a master preparation individual controls the preparation of other preparation stations.
A: Select the type of items to be printed to the master port.
Reports:
Cash Sub Tot: Print server subtotals on cash out reports.
Server Details: Print sales details on server cashout slips.
Manager Details: Print sales details on manager cash out slips.
Rollover Report: Print daily sales report when daily rollover time is reached.
Adds/Deds: Print additions and deductions on daily cashout slips.
Cash out Slip: Print cash and credit card details and counts at the bottom of a server's cash out slip. This reports aids in balancing cash and credit receipts at the end of a shift.
Promo Printing: Print a special promo message when an item value is zero but is not normally a zero value item.
Commissioning: Printing commissioning information on server's cashout slip.