Configuration -> General Setup -> Payments
In order to properly record payments at the POS we must first define a set of payment types that are used by the store. The system initially creates 4 payment types. Void, Cash, Check and On Account.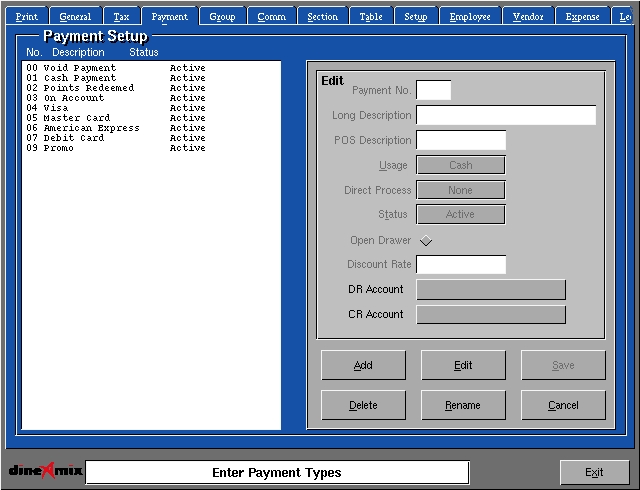 Add: Used to add a new payment type. Payment types are identified using a 2 digit number. Press the "Add" button and enter a number from 1 to 50 in the payment number field. Enter or Select options from the following fields;
Long Description: Used to print the payment type on checks. i.e. "American Express"
POS Description: Used by servers to choose a payment type from the POS. i.e. "Amex"
Usage: Used to indicate the payment use. The following uses are supported;

Void: Used to cancel a check.
Cash: Indicates a cash payment.
Certified: Indicates a certified check.
Check: Indicates an regular check.
Account: Indicates the payment is placed on a patrons account. The checks may be retrieved at a latter date and paid.
Credit Card: Indicates a credit card. Debit cards are considered to be Credit Cards.
Promos: Indicates a promotion and possible discount rate.
Discount: Used to discount a check based on the discount rate or amount.
Deposit: Indicates moneys being removed from the cash box and moved to a deposit box.
Gift: Indicates a gift certificate is being redeemed as a payment.
Exchange: Used to calculate currency exchanges based on the discount rate.
Transfer: Strictly speaking this is not a payment type. Use this to close a guest check and transfer the check to another server or table. This closes the bill from the current servers list of open checks.

Status: Indicates whether the payment is active at the POS.
Discount Rate: Indicate the rate of discount in a percent form or dollar value used by the above payment uses.
DR Account: Select the Debit account to be used for accounting purposes.
CR Account: Select the Credit account to be used for accounting purposes.
Save: Used to record your changes from an "Add" or Edit" mode.

Edit: Used to change a payment type. Select a payment from the list and press "Edit". Change the information as required.

Delete: Used to remove a payment from the payment list. Select a payment from the list and press "Delete". You will be prompted to confirm your choice.

Rename: Used to renumber a payment type. Select a payment from the list and press "Rename". Enter the new payment number in the number field and press RETURN to record the change.

Cancel: Used to deselect a payment from the list or to exit a payment "Add" or "Edit" without recording any changes.